Most repairs take less than 24 hours when you bring your computer to our shop. What's more, we're local, affordable and eager to help.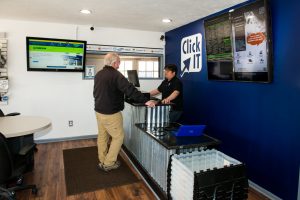 Whether you run a business or a household, you rely on computers. When a computer isn't working smoothly, PC or Mac, laptop or desktop, daily life becomes instantly more difficult. Our aim is to offer outstanding computer-repair services, from right across the counter at our store. We also gladly bring these services straight to your home or office. We can troubleshoot your network and printer mixups, and get all your vital IT systems in working order. Our certified, expert staff will offer you consultation and advice regarding all your devices and anything related to IT.
While you're trying our affordable computer-repair services, ask about other, proactive ways of managing your IT. From compatibility problems, tune-ups and software installs, to data backup, update management and security goals, Click IT will manage it so that you can manage everything else.
Pickup & Delivery
If for whatever reason, you are unable to drop off your device, for a nominal trip charge, we offer pickup and delivery services to our customers. If you're located within the Village of Chagrin Falls, pickup and delivery is provided at no extra charge.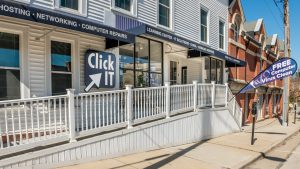 AQAP Rush
If you have a computer-repair emergency and need your device working immediately, we offer As Quickly As Possibly (AQAP) services. Opting for this services means we will make fixing your device a priority over all other jobs-in-queue. Though we are certified experts, we specify "AQAP" because, when fixing a computer, no one can guarantee a turnaround time. That said, with an AQAP rush, you will get top service at the fastest possible speed.