Consult with the Best Locally - We're Reasonable, Fast & Friendly

Call Us Now: (440) 247-4998
A qualified technician is standing by in Chagrin Falls to answer your call.*
Save Time with Free Consultation When Deciding to Buy a Laptop, PC, Desktop or Mac or stop by. We're open 9 to 5 or by appointment. To get directions, see our Contact Us page.

Click IT sells, services and supports hundreds of new computer purchases in Chagrin Falls and has done so since 2102. We help customers transition to a new system easily and painlessly while educating them about the computer equipment and software used. We have 100% 5-stars ratings. (See testimonials.)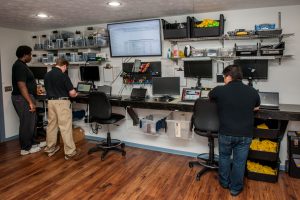 We provide preventative solutions against spyware, viruses, and avoidable problems with solid and professional maintenance and security plans to fit any budget, which also increases the lifespan of your computer equipment.
Hardware problems can present themselves at the most inopportune time, even when everything else is properly maintained. With heat and dust, computer equipment gets outdated over time and older hard drives approach an age where data loss becomes a serious risk, and unprotected electrical components can be just one power surge away from causing the replacement of an entire computer system, or worst yet, the loss of your data.
Click IT helps customers avoid these problems by first evaluating their computing needs and directing them towards the most valuable solutions. We cover all the bases such as highest-value-per-dollar, scalability-into-the-future as well as disaster protection and prevention.
Click IT sells and supports a wide range of hardware configurations. Our products and services include:
»

 Brand name 

Desktops and Laptops
» Dell and HP Servers
» Computer Upgrades
» Hard drive Data Recovery
» Custom-Built Desktops
» Custom-Built Firewalls & Servers
Our hardware expertise allows us to assist our customers in making the most appropriate purchase for their needs. We will also help with Software Service & Support as well as Network Service & Support to provide an all-encompassing solution for the home or office. We also sell and support Dell, HP, Acer, Asus, and Apple Computer desktops and laptops as well as custom computer configurations. Additionally, we can recover lost data from failed hard drives, hard drives erased by 'system recovery' disks, and unreadable CDRs that have been improperly stored. At Click IT,
At Click IT, we make it a point to minimize your costs and maximize the utility of your computer purchases and do it fast.